Fun4GatorKids Events
Contact Kathy Stewart at This email address is being protected from spambots. You need JavaScript enabled to view it. about participating in any of the events listed below.
Want to stay up to date on all Fun4GatorKids events? Visit our Facebook Events page!
Year-Round Weekly Playgroups and Family Days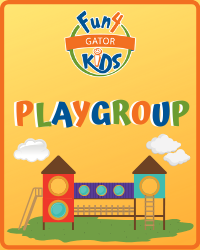 Offered once a week. We plan and organize a playgroup at various locations around Alachua County. Fun4GatorKids can bring a playgroup to your location, or you can bring your business to the playgroup.
Want to join our group? It's FREE https://www.facebook.com/groups/F4GKPlaygroup/

* Open to all businesses. We can arrange a playgroup or family day at your place of business. We will promote it in our Facebook group, and on our main Facebook page as well as on our website.
* We have over 2500 members in our group, but playgroup hosts may limit the attendance or require pre-registration.
* Fee: Free for advertisers. $50 for non-advertisers.
* When: Playgroups can be hosted anytime Monday-Friday 9am-2pm and should be geared to families with children 5 and under. Family Days can be hosted after school, in the evenings and weekends or on school holidays. Family Days should be geared towards families with school aged children.

Fun 4 Gator Kids Kids Zone at Chomp the Block
Friday Night Before Each Home Game at Celebration Pointe
Before every Gators home game, the party starts on Friday night at Celebration Pointe, where Gators come to celebrate. Chomp the Block is the official Block Party of the Florida Gators and is held each home-game Friday from 6 to 10 p.m. There will be food and beverages at Celebration Pointe restaurants and outdoor bars, plus food trucks. The Kids Zone runs from 6-8 a kids zone with child-friendly games such as a bounce house, face painting and balloon animals. Businesses are invited to set up a booth to promote their business as long as they provide FREE kids activities or attractions
Vendor fees: NO Vendor fee. Email Kathy to register.

Captain Marrow Facebook Promotion
New giveaway every day in October
We have 31 sponsors – one for each day in October. The way it works is that we take our poseable Skeleton (Captain Marrow) to various locations around Gainesville and pose it doing something at the location (like eating, playing a game, doing martial arts, checking out a museum exhibit, dancing, etc.). We publish a Facebook post promoting the business sponsoring the post, and ask followers to follow that business' Facebook page, to follow our page and to comment on the post for a chance to win a giveaway prize provided by the sponsor of the post. We will pick a random comment as the winner for each separate giveaway (31 giveaways with 31 winners.) This is a VERY popular promotion we've run the past 3 years, that gets lots of engagement. We will send out an email blast to announce the promotion on October 1st, and all confirmed sponsors will be promoted in that email blast. We will also be running a Facebook ad all October to encourage our followers to enter every day for a chance to win, AND we also promote it on our fall postcard drop this month. In September and October, we distribute 5000 postcards to area schools and family businesses.
Fee: $75 + whatever you want to give away to the winner. Email Kathy to participate.

Boo at the Zoo Fun 4 Gator Kids Kids Zone
October 31st 3pm -7:30pm | Santa Fe College Teaching Zoo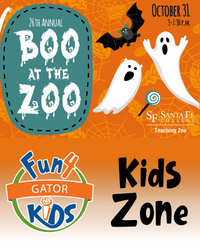 Boo at the Zoo is Gainesville's favorite Halloween treat for families. The students and staff transform the zoo into a spooky but safe trick or treating event for the whole family. Fun4GatorKids hosts the Kids Zone set up in front of The Little School. Expected attendance is 6000+ and all attendees will flow through the Kids Zone after visiting the zoo. We have limited availability for a maximum of 20 booths. *We are not permitted to accept food vendors or dance studios in the Kids Zone. Vendors may provide a kids activity; provide giveaway/promotional items OR may hand out wrapped candy.
Vendor fees:
*Fee WAIVED for non-profit organizations, government agencies, libraries and student organizations
*Fee WAIVED for businesses that have spent $5000+ in advertising on F4GK in the past 12 months.
*$75 - All other current advertisers
*$150 - All other vendors
Vendor Registration Fee includes 1 Facebook post on Fun 4 Gator Kids Facebook page to promote your business or organization AND your business/organization will be highlighted in a dedicated email blast prior to the event.