Fun4GatorKids Events
Contact Kathy Stewart at This email address is being protected from spambots. You need JavaScript enabled to view it. about participating in any of the events listed below.
Want to stay up to date on all Fun4GatorKids events? Visit our Facebook Events page! www.facebook.com/Fun4GatorKids/events
Year-Round Weekly Playgroups
Offered once a week. We plan and organize a playgroup at various locations around Alachua County. Fun4GatorKids can bring a playgroup to your location, or you can bring your business to the playgroup.
Want to join our playgroup? It's FREE https://www.facebook.com/groups/F4GKPlaygroup/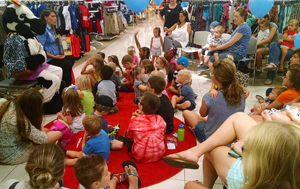 We have over 600 members in our playgroup, but playgroup hosts may limit the attendance or require pre-registration.
Open to all businesses
Fee: $100 (may be free for some advertisers)
Fun 4 Gator Kids Back to School Bash
August 3rd 9am-1pm | Celebration Pointe
At Fun 4 Gator Kids Back to School Bash, kids can learn about and sign up for dozens of area after-school programs, sports leagues, schools, and other year-round activities to keep your kids busy. Kids can enjoy LOTS of FREE activities like face painting, bounce houses, art projects, STEM activities, putt-putt golf, and MORE! Vendors MUST provide a FREE kids activity, or demonstration OR hand out FREE promotional items or FREE trinkets like candy or pencils or stickers.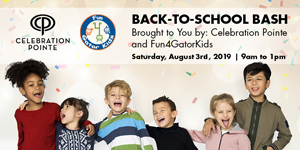 Vendor fees:
* Waived for current advertisers spending over $250/month, or over $2500/year in advertising in the previous 12 months
* Waived for government agencies, libraries, and Celebration Pointe tenants
* $50 for non-profits and current advertisers who have spent $250 - $2500 in advertising in the past 12 months
* $50 for vendors who paid $100 to attend the Summer Activities Expo in 2019
* $100 for all other businesses


Register by completing this vendor form http://fun4gatorkids.com/vendor-form
Fun 4 Gator Kids Touch a Truck
September 14th,2019 9am - 2pm | Santa Fe College North Field
This is the largest event we host, and the most attended family event in Gainesville. Last year, we had an estimated 8,000 people in attendance. Safety related businesses are welcome to register as an exhibitor. All other businesses are welcome to attend as a sponsor. Sponsorship levels range from $250-$1000.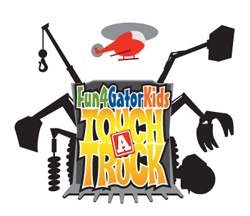 Children's Safety Zone Vendor fees:
* Waived for non-profits and government agencies attending the event with unpaid volunteers.
* $50 for all other businesses (safety related businesses only) * Sponsorships available for $250 - $1000

To learn more about being a vendor or sponsor visit http://gatortouchatruck.com/
Boo at the Zoo Fun 4 Gator Kids Kids Zone
October 31st 3pm -7:30pm | Santa Fe College Teaching Zoo
Boo at the Zoo is Gainesville's favorite Halloween treat for families. The students and staff transform the zoo into a spooky but safe trick or treating event for the whole family. Fun4GatorKids hosts the Kids Zone set up in front of The Little School. Expected attendance is 6000+ and all attendees will flow through the Kids Zone after visiting the zoo. We have limited availability for a maximum of 20 booths. *We are not permitted to accept food vendors or dance studios in the Kids Zone. Vendors may provide a kids activity; provide giveaway/promotional items OR may hand out wrapped candy.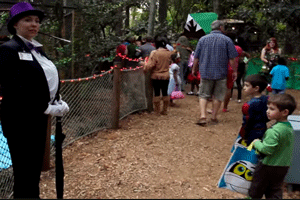 Vendor fees:
* Waived for current advertisers spending over $250/month, or over $2500/year in advertising in the previous 12 months
* $25 for non-profits
* $50 for current advertisers who have spent $250 - $2500 in advertising in the past 12 months
* $50 for businesses who already paid $100 to attend a Fun4GatorKids event in 2019
* $100 for all other businesses

Registration for this event will open in September, 2019