Fun4GatorKids Events
Contact Kathy Stewart at This email address is being protected from spambots. You need JavaScript enabled to view it. about participating in any of the events listed below.
Want to stay up to date on all Fun4GatorKids events? Visit our Facebook Events page! www.facebook.com/Fun4GatorKids/events
Fun4GatorKids Summer Activities Expo
April 28th 2-5pm | Diamond Sports Park
Schools and businesses offering summer kids activities are invited to attend. Exhibitors are encouraged to bring an activity which demonstrates the activities that take place at their camp or business.
Vendor fees:
* Waived for Tier A advertisers who are spending over $250/month, over $500 on summer camp advertising or over $2500/year in advertising in the previous year
* $25 for non-profits
* $50 for advertisers who have spent $250 - $2500 in advertising in the past 12 months
* $100 for businesses with featured listings only and non-advertisers

Register for the Summer Activities Expo by completing this vendor form - http://fun4gatorkids.com/vendor-form
Year-Round Weekly Playgroups
Offered once a week. We plan and organize a playgroup at various locations around Alachua County. Fun4GatorKids can bring a playgroup to your location, or you can bring your business to the playgroup.
Want to join our playgroup? It's FREE https://www.facebook.com/groups/F4GKPlaygroup/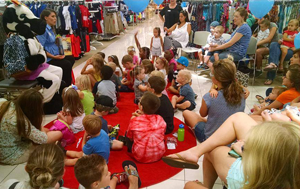 We have over 600 members in our playgroup, but playgroup hosts may limit the attendance or require pre-registration.
Open to all businesses
Fee: $100 (may be free for some advertisers)