About Us
Fun4gatorkids.com is the ultimate resource for finding stuff to do with kids in the Gainesville, FL area. We currently have over 1000 listings and are adding more each week! Gainesville has SO much to offer for young children, but much of it is not advertised, and many activities and businesses do not even have a website, so kids and their caregivers often find out about them through word-of-mouth or just happen to discover things on their own.
If you know about a local business or program in Gainesville, FL that's not listed in our directory, add a business or program to our directory. If you know about a great activity or event in Gainesville, FL that's not listed on our calendar, add an event or activity to our calendar.
For information about paid advertising on Fun4GatorKids.com see our Advertising page for details.
Fun 4 Gator Kids is part of the growing network of Fun 4 US Kids websites. To learn more about Fun 4 US Kids or to find more websites like Fun 4 Gator Kids visit fun4uskids.com
Kathy Stewart, Owner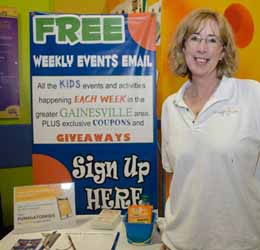 I have two kids, aged 12 and 14 now. I started fun4gatorkids.com in 2009 when my kids were 4 and 6 years old because as a stay-at-home mom, I was desperate to find things to do with my kids out of the house. Any day spent out and about was better than a day spent at home! I was spending hours each week scouring the internet, newspaper and circulars for things to do with my kids, and getting frustrated at the lack of information, and at the number of web sites I had to visit before I found what I was looking for. I spoke with many other parents and teachers who expressed the same frustration.
I had 2 goals when developing this website:
To create a FREE online resource for parents, teachers and care-givers to quickly find activities, programs, businesses, and places to visit with kids in the Gainesville area.
To promote locally owned businesses and programs offering products and services appealing to kids. The website does this in two ways:


All fun4gatorkids.com listings are FREE!
Advertising rates are priced below market value in order to allow small businesses the opportunity to advertise.
Your feedback, comments and suggestions are always welcome. This email address is being protected from spambots. You need JavaScript enabled to view it.
Pam Becker, Content Manager
I've known Kathy since our kids were in the same baby playgroup, and have been thrilled to see the success of Fun4GatorKids. I love finding out about family friendly events around town almost as much as Kathy! I remember sending her emails about events, or letting her know about a correction for the website. Then she offered me my dream job -- to work from home and still be available for two fast-growing girls. Every day I strive to help keep Fun4GatorKids updated and as accurate as possible.