Swimming
This page lists swim lessons and swim teams in the Gainesville, Florida.
Featured Listings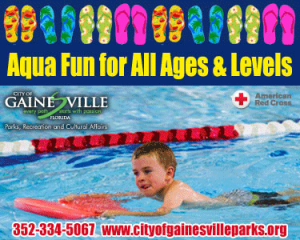 City of Gainesville Swimming Lessons are offered for children ages 6 months to 14 years old, and for adults. The focus is on fun, safety and basic swimming skills. Register early, sessions are popular and fill up quickly. Our swim instructors are American Red Cross certified in Lifeguard Training, CPR, AED, and First Aid. Learn more!
Websitewww.cityofgainesville.org
At Sun Country Splash we do not "just give swim lessons". While teaching children to swim is one of our goals, we are steadfast in our commitment to the physical, emotional and psychological enhancement of children.   In addition, we believe that a child's swim lesson or water orientation requires the involvement and education of the parent or responsible adult who is accompanying the child.   We will communicate with parents the goals, techniques, expectations and risks of the instruction.   Behind every ... Learn more!
Address333 SW 140th Terrace, Jonesville, FL, 32669
Telephone(352) 331-8773
There is a reason why the YMCA is referred to as America's Favorite Swim Instructor.   In Y classes, not only are you taught in a caring way how to swim, but you also learn about yourself, about safety and rescue skills, and about water activities you can enjoy for a lifetime.   Class size is determined by considering safety factors and participants' ages, making sure classes don't get too big to be comfortable.   The Northwood Family YMCA offers a Parent-Child Aquatic Program which promotes water enrichm ... Learn more!
Address5201 NW 34th Street, Gainesville, FL, 32605
Telephone(352) 374-YMCA
Websitewww.ncfymca.org/aquatics.php
Listings
Aquabilities is offered through a partnership with the non-profit corporation Noah's Endeavor, Inc., Inclusive Community Recreation to provide an introduction to water and swimming skills to participants with disabilities. The program teaches children with disabilities to be comfortable in the water, and to improve their swimming, motor and water safety skills. Learn more!
AddressSwimming lessons held at H. Spurgeon Cherry (Westside) Municipal Pool: 1001 NW 31st Drive, Gainesville, FL, 32605
AquaMobile Swim School is a private swim school that offers high quality swim instruction at our clients homes across Florida. Having lessons taught in a comfortable environment facilitates the learning process and also saves time by having an instructor come to you! What AquaMobile has to offer:Convenience and Flexibility: AquaMobile offers clients convenience by providing Swim Instrutors who will teach at our clients homes. Clients no longer need to worry about rounding up the kids to take them to a com ... Learn more!
Telephone(888) 950-SWIM
Websitewww.aquamobileswim.com
Swim Team Gator Swim Club uses the sport of swimming and it's environment to teach life's lessons.   We use swimming as a way to teach goal setting, dedication, commitment, and a strong work ethic.   Gator Swim Club takes a long term philosophy to swimming.   We emphasize kicking and technique at the younger ages, and progress to IM training as the athletes grow in the program.   This philosophy allows athletes to become their best in their teenage and college years.   Gator Swim Club provides the opportu ... Learn more!
AddressO'Connell Center on UF Campus, Gainesville, FL
Telephone(352) 375-4683 ext 4595
Websitewww.gatorswimclub.com
Click here for more informationCome out and enjoy the clubhouse's heated pool this fall and winter.   We offer aqua aerobic classes every Monday, Wednesday and Friday mornings. The Haile swim team meets in the fall, and the aquatics department offers swim lessons. The Club can also set up a pool party for you at our fitness center pool with many options available to make your party perfect.   There are two swimming pools open to members and their guests.   Pool memberships available if sponsored by an exi ... Learn more!
Address9905 SW 44th Ave., Gainesville, FL, 32608
Telephone(352) 335-0055 ext. 241
Swim Lessons High Tide Aquatics has Learn-To-Swim Classes for all levels of swimmer. Each level of instruction builds on previous skills within our program, or experience your child might already have with swimming. Skills in swimming are acquired with experience and are not age specific. The more appropriately your child is placed, the more they can make progress in learning to swim. Swim Team High Tide Aquatics is committed to meeting the unique needs of diverse swimmers by attending to the physical, ps ... Learn more!
TelephoneContact Bryan Welter:(615) 498-5888
E-mail
Websitewww.htaotr.com
Thousands of Infant Swimming Resource (ISR) lessons are taught every day worldwide as part of our commitment to prevent pediatric drowning.   The commitment we made to parents over 45 years ago, to reach the next child before he or she reaches the water alone, is honored daily to achieve our mission that Not One More Child Drowns.   Give your child an extra measure of protection with aquatic survival instruction from Infant Swimming Resource (ISR).   ISR, a nationally recognized program, offers private hi ... Learn more!
Swim Team Our year round program is designed for children ages 4 and over of ALL swimming abilities. We run swim practices throughout the year taking a short break around the major holidays, a week break in the spring, and then a 2 week break in August. Our year round program accepts new swimmers continuously throughout the year. The Makos team is broken up into 3 seasonal groups, as well as 8 year round practice groups, based on swimmers ability, age and commitment to the program. Learn more!
TelephoneFor more information, call (352) 372-5626
E-mail
Websitewww.makosaquatics.com
Angel Fish is a special instructional time in our pool for families with children with special needs. Students with any type of sensory processing or motor coordination difficulties are welcome to join us for a relaxed child centered swim lesson. This class is also structured so that parents can join in the water if this makes the children more comfortable.Visit website for rates Learn more!
WhenEvery Friday 5:00PM - 6:00PM
AgeAll ages
Address333 SW 140th Terrace, Jonesville, FL, 32669
Telephone(352) 331-8773
Members: $15   /   Non-Members $18Sun Country Sports Center Splash Jam: Fun games, swim instructions and open workout time. For current students: get extra swim time and/or use the time to make up a class. For future students: try out the swim class, meet the coaches and learn about the Sun Country pool! All students must pre-register Learn more!
WhenEvery Friday night 6:00PM - 7:00PM
AgeFor ages 3 and up.
Address333 SW 140th Terrace,, Jonesville, FL, 32669
Telephone(352) 331-8773
Websitewww.suncountrysports.com
Swim America of Gainesville is a learn to swim program for children.  Our philosophy is to promote awareness and water safety by giving each swimmer a foundation of skills that will foster a lifelong love of the water.  We individualize each lesson so that each swimmer progresses at their own level of readiness.  By offering each individual that opportunity to master both development and safety skills, we will install confidence and enthusiasm in the water.  SwimAmerica is a nationally certified program o ... Learn more!
Telephone(352) 335-0518
The Gainesville Gaviatas, Inc. is a competitive synchronized swimming team, begun in 1997 by Mary Pat Stephan and Alison Law.   We currently have twenty-three swimmers ranging in age from 8-18 years of age.   Our club is always open to new members.   The season runs from September through June. We have recreational and competitive options.   We also offer free - give synchro a try - session on Saturdays. Learn more!
TelephoneFor more information, contact Becky Lancer at (352) 682-0515
E-mail
Websitewww.gaviatas.org
The Swim Squad is re-inventing swimming lessons to be as efficient, convenient, and safe as possible for both the children and the parents.  The Swim Squad specializes in traveling to your home or community pool to teach your children swimming lessons, offering a familiar environment for your children to help accelerate their progression!  As we strive to be the most convenient swimming program in town, we will never dictate what day or time your child's swimming lessons are.  By viewing our instructors' ... Learn more!
Websitewww.theswimsquad.com